Navitas-Web-Banners---NV6128 (1)
Navitas Web Banners - Sustainability copy
Fast Mobile Chargers – Let's Go GaNFast™!
Mobile device batteries and display sizes continue to grow, leading to charging times that can approach five hours or more.
New technologies such as USB-C connectors and USB-PD/PPS protocols create an opportunity for universal chargers to power all your mobile devices.
Navitas GaNFast™ power ICs enable charging rates up to 3x faster than silicon-based chargers and can make universal GaN fast chargers a reality.
Over 75 GaNFast chargers in mass production, with over 150 in development.
Consumer – More Power, Smaller Size
Consumers demand more power and smaller / thinner form factors for ultra-thin LED TVs, gaming systems, all-in-one PCs, smart home systems.
8K TVs demand 3x more power than 4K TVs.
GaNFast power ICs enable up to 3x more power in the same size.
Enterprise / Data Center – Save $1.9B/yr
Upgrading to GaNFast power ICs could save >15 TWh or $1.9B in annual electricity costs.
44% of Data center costs relate to power (electricity, power & cooling).
GaN power ICs can reduce electricity use by up to 10%.
More data and less power means a more cost-effective and eco-friendly internet.
Solar / Renewables – 25% Cost Savings, 40% Energy Savings
Solar energy has the potential to move you off the grid and save big on your utility bills, but high equipment costs and modest energy savings are holding many consumers back.
GaNFast power ICs deliver 50% smaller and lighter solar inverters, reduce costs by 25% and enable 40% energy savings.
Navitas GaN power ICs can improve solar payback by 10% or more.
EV / eMobility: Longer range, lower costs
Beat range anxiety with 60% faster charging and 5% longer range.
GaNFast power ICs deliver 70% energy savings.
"This charger is an 'in-box' optional upgrade from a legacy silicon-based charger, which is made for Dell premium Latitude 9000-series laptops." "The detachable cable design is the most attractive feature, making this charger more like a phone charger than a laptop...
read more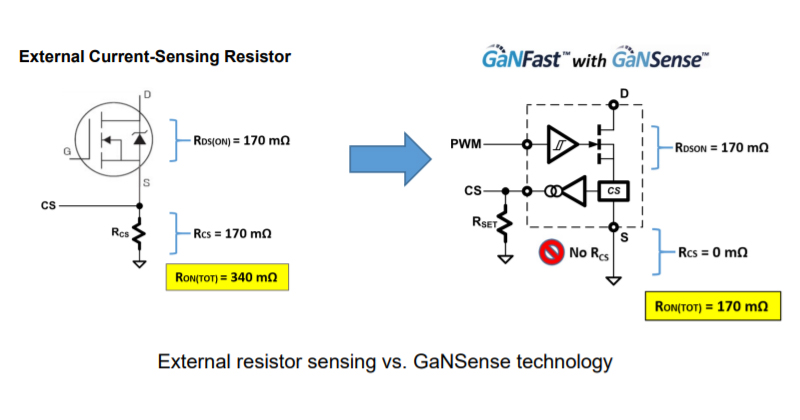 "The latest family of Navitas GaNFast Power ICs with GaNSense technology includes control, drive, sensing and protection features for high density charger and adapter applications. Integrated gate drive eliminates parasitic gate loop inductance and prevents gate...
read more