Baird Vehicle Technology & Mobility Conference – 2022
25th January 2022

-

26th January 2022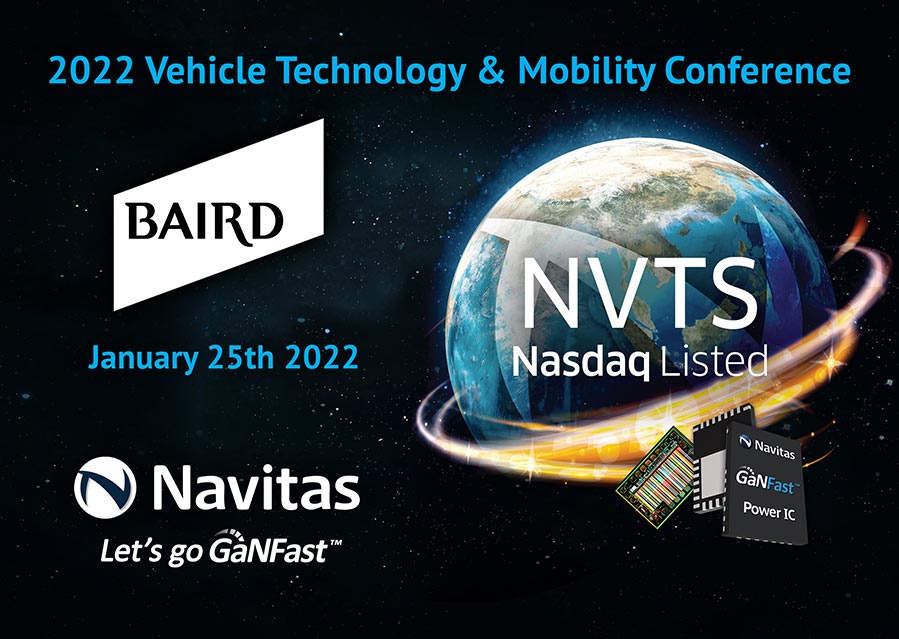 The conference will be held virtually on Tuesday, January 25 uniting company leaders with investors and select corporates to provide an intimate and constructive forum for discussion. The conference will be hosted by Baird's Equity Research and Global Investment Banking teams and include c-level management from companies across several sectors focused on: Vehicle Electrification, ADAS/Autonomous Driving, Mobility. Baird conferences are by invitation only; reach out to your Baird Representative for additional details.
CEO, Gene Sheridan to highlight performance and environmental benefits of next-gen GaN power ICs in fast chargers, EV, solar and data center markets.
GaN is a next-generation semiconductor technology that runs up to 20x faster than legacy silicon and enables up to 3x more power and 3x faster charging, with up to 40% energy savings in half the size and weight of legacy silicon solutions. Navitas' GaNFast™ power ICs integrate GaN power and drive plus protection and control to deliver simple, small, fast and efficient performance. With over 145 patents issued or pending, and significant trade secrets including a proprietary process design kit (PDK), Navitas believes it has a multi-year lead in next-generation GaN power ICs.
Click the PDF below to view the presentation.