Welcome to "Planet Navitas" at APEC2023!
Let's Electrify Our World™!
Navitas unveils "Planet Navitas" – an immediate implementation of tomorrow's sustainable, achievable, everyday world – using gallium nitride (GaN) and silicon carbide (SiC) next-generation power semiconductor technologies.
Following the mission to "Electrify our World™", "Planet Navitas" invites visitors to discover how next-gen GaN and SiC technology enable the latest solutions for fully-electrified housing, transportation and industry. Examples range from TV power to home appliance motors and compressors, EV charging and solar/micro-grid installations, and on to data center power systems. Each example highlights end-user benefits, such as increased portability, longer range, faster charging, and grid-independence, plus a focus on how low-carbon-footprint GaN and SiC technology can save over 6 Gtons/yr CO2 by 2050.
At APEC 2023, experience:
Planet Navitas
the all-electric home, with a window onto the big, wide world of high-power solutions for industry, transportation and new energy resources.
Join the tour to discover more:
An insightful series of live partner and Navitas presentations highlighting the latest advances in power electronics, from mobile ultra-fast chargers, to EV applications and next-gen motor drives.
Click to register to attend live in-person or return here after APEC to see the video recordings.
Navitas Powers OnePlus' First In-Box GaN Smartphone Charger
Navitas Semiconductor has announced that its GaN power IC technology has been used by global mobile-technology company OnePlus for the 160 W in-box fast charger supplied with the company's latest OnePlus 10R 5G (worldwide) and OnePlus ACE 5G (China model) Android smartphones.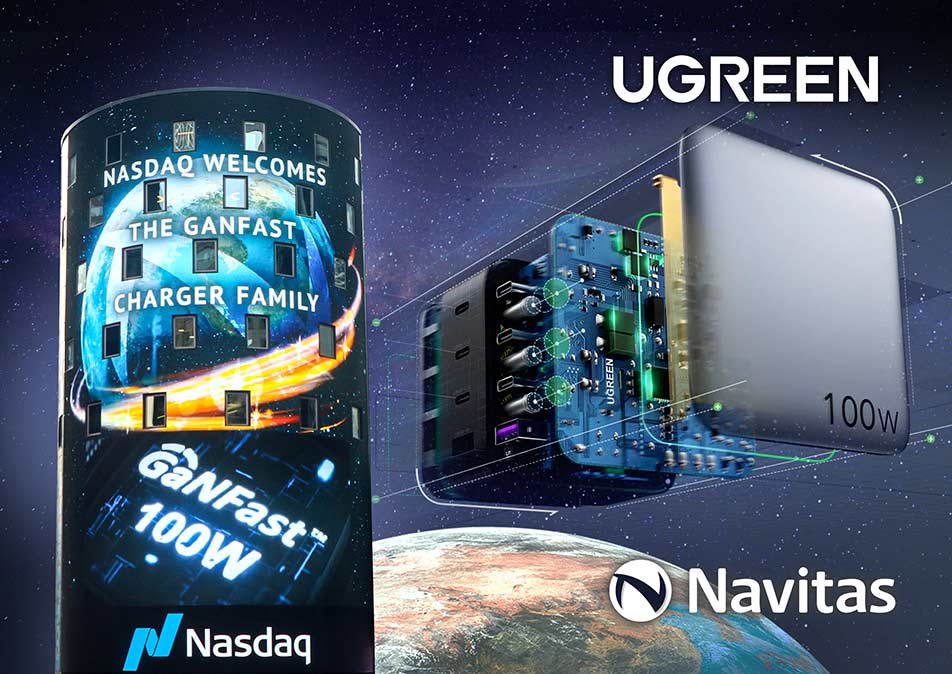 Navitas and Ugreen Announce GaNFast™ Global Marketing Program
Navitas Semiconductor has announced a GaNFast Global Marketing Program with consumer electronics and accessory specialist Ugreen. The program builds on the companies' successful technology partnership to create awareness of GaN and education for global consumers. In-person and on-line events emphasize the significant…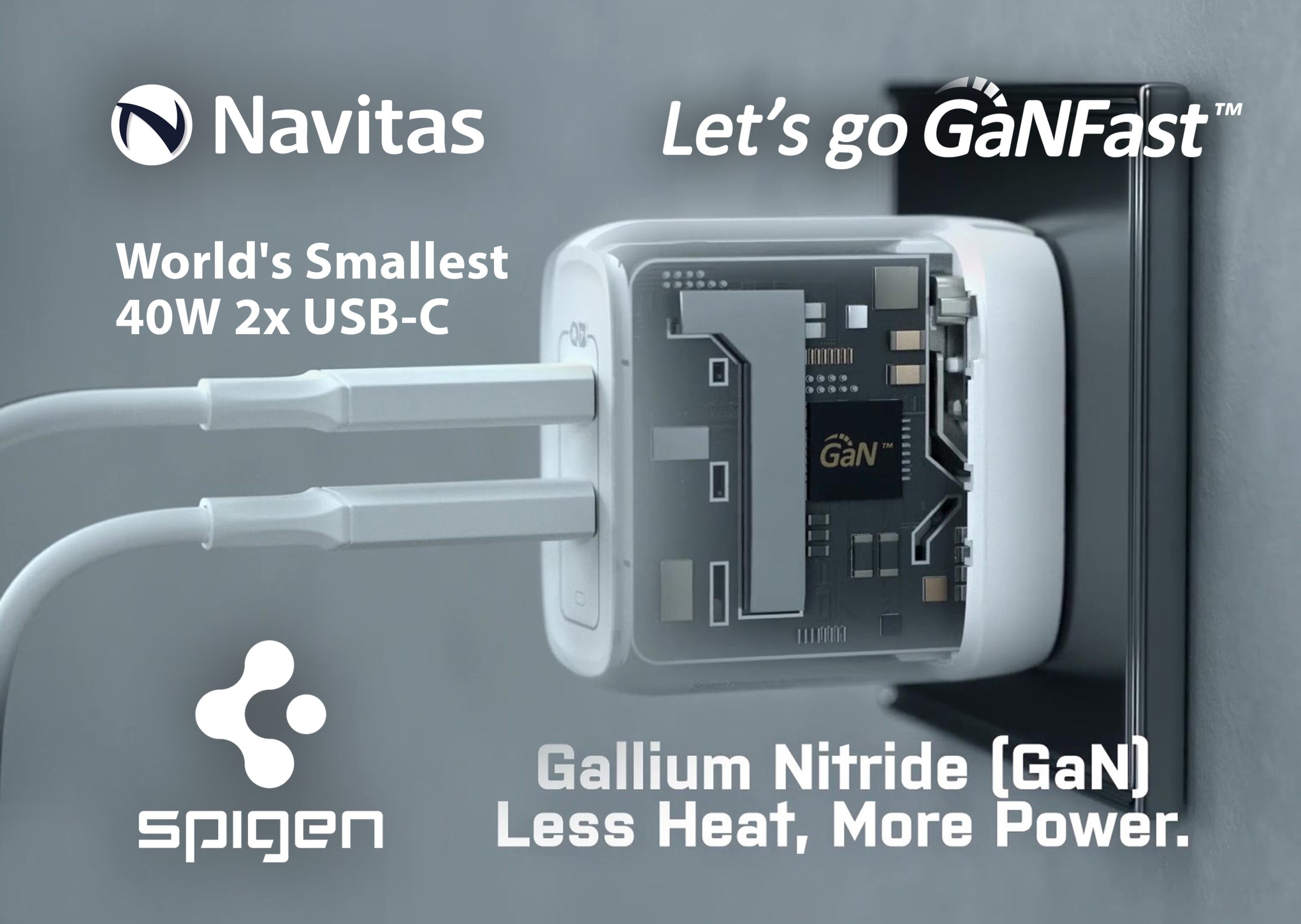 Navitas Drives Spigen's ArcStation Pro 45W: World's Smallest Samsung S21 Ultra Fast Charger
Navitas Semiconductor has announced that Spigen Inc. has extended its range of 'ArcStation Pro' GaN-based fast chargers, now including the world's smallest 45W model for Samsung's flagship smartphone, the S21 Ultra.
"Over 80% of our energy sources and over 80% of our energy requirements are based on fossil-fuel, emitting over 30 Gtons/yr of CO2, destroying our natural habitat and disturbing weather patterns around the world. Electricity is the answer. Electricity can be created from renewable sources like solar and wind, which have an unlimited supply to power our world, powering virtually everything we do. It's clean, emitting no CO2 and limiting the damage to our planet. With gallium nitride (GaN) and silicon carbide (SiC) technology, our mission is to Electrify Our World™, and save up to 6 Gtons/yr of CO2"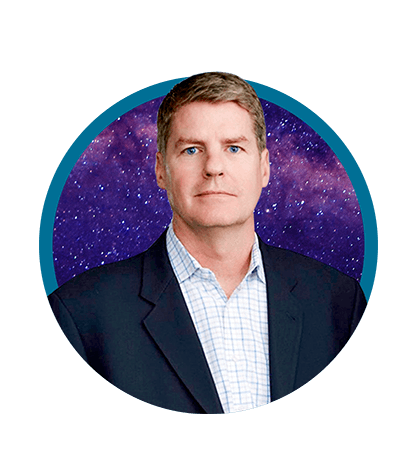 Gene Sheridan, CEO and co-founder, Navitas Semiconductor
Llew Vaughan-Edmunds, Snr. Director, Navitas Semiconductor
Living Well Off the Grid
"As more of our world is electrified, we can help to balance electrical supply and demand to stabilize the AC grid, and at the same time, become less reliant on the main grid if disruption occurs. Solar installations – complete with energy storage systems, and increased adoption of EVs, with bi-directional on-board chargers, means that each home can become an island of stability and community strength. "
The Silicon Chip is Dead!
"In digital applications – processing ones and zeroes – low voltage silicon chips have a long road ahead. However, in power electronics – processing volts and amps – then silicon is being replaced by two new technologies; gallium nitride (GaN) and silicon carbide (SiC). From ultra-fast charging a smartphone in 9 minutes, to efficiently capturing solar energy and storing it in your home or EV, GaN and SiC run at high speeds to shrink the size, cost and weight of power electronics. "
Stephen Oliver, VP Corporate Marketing & Investor Relations, Navitas Semiconductor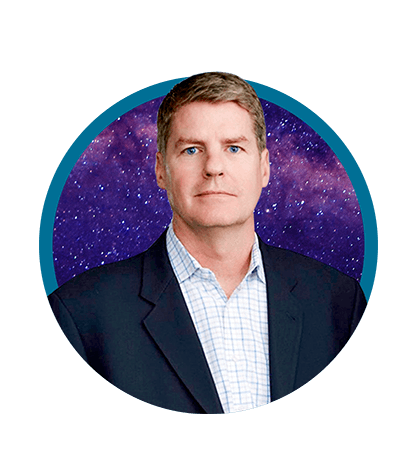 Gene Sheridan, CEO and co-founder, Navitas Semiconductor
"With complementary GaNFast and GeneSiC technologies, Navitas is the leading-edge company for next-generation power, taking market share from legacy silicon chips. Such a broad portfolio, with comprehensive, application-specific system design support accelerates customer time-to-market with sustainable performance advantages. 'Planet Navitas' represents the very real, inspiring implementation of GaN & SiC across the vast $22B/year market opportunity."