The 5,000,000th GaNFast power IC is shipped to OPPO, the Top Fast-Charging Mobile Phone Manufacturer.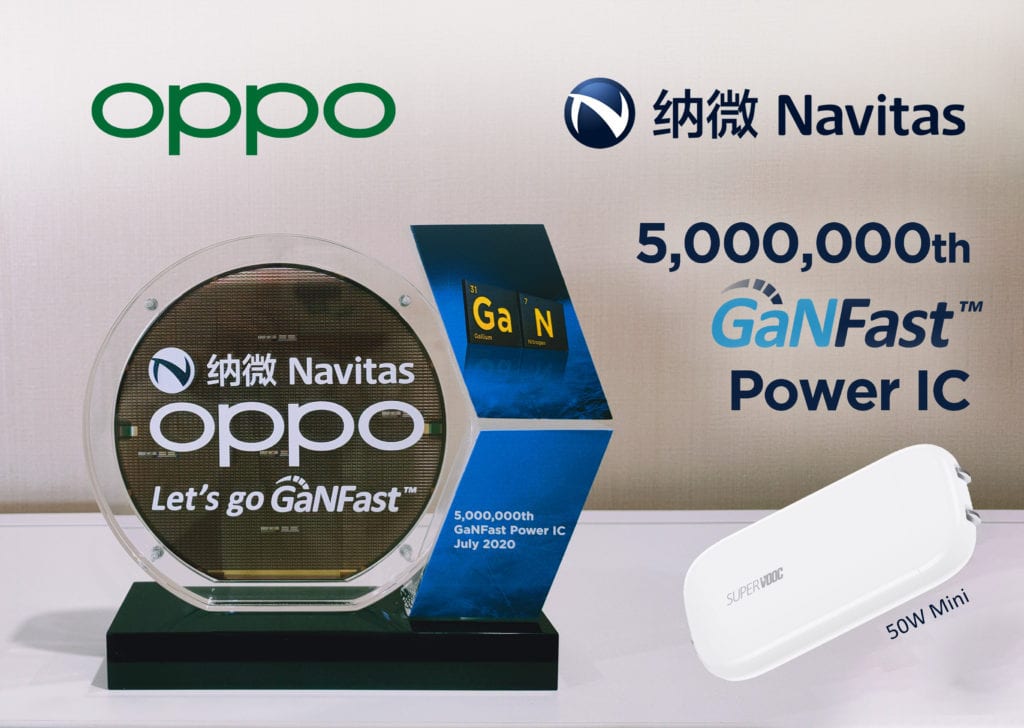 DUBLIN, IRELAND–(PRWeb)— Navitas Semiconductor today announced the delivery of its 5 millionth gallium nitride (GaN) power IC based on its GaNFast technology to OPPO, the world's leading fast-charge phone company. Mr. Yingying (Charles) ZHA, VP and General Manager of Navitas China delivered the 5 millionth IC in the form of an award to Mr. Chang LIU, Dean of the OPPO Research Institute, indicating OPPO's affirmation of Navitas' GaNFast technology, and the new material's enabling of the second revolution in the field of power supply and fast chargers.
OPPO is the pioneer in the fast charging market, from the earliest and popular VOOC flash charging protocol, "five minutes to charge and two hours to talk". The next generation of SuperVOOC has increased the fast charging power of the mobile phone to an unprecedented 125W and the technological innovations are endless. OPPO's latest generation of lightweight fast-charge products uses Navitas GaNFast power ICs to overturn the traditional, bulky, slow, silicon-based charger market and shrink up to 12x vs. silicon-based chargers.
Mr. Chang LIU, Dean of OPPO Research Institute, said: "The cooperation with Navitas has perfectly matched the company's continuous exploration and pursuit of new products, new materials, new processes and new technologies. We are excited to see Navitas' company vision and excellent technology. We also hope to promote the development of gallium nitride technology through in-depth cooperation and accelerate the commercialization of the third generation of band-gap semiconductors."
Mr. Yingying ZHA, VP and General Manager of Navitas China, said: "I am very pleased that OPPO, as a top mobile device manufacturer, has adopted fast charger technology based on GaNFast power ICs. Navitas' GaN Power ICs with monolithic integration of GaN FET, GaN digital and GaN analog circuits can promote the commercialization of a new generation of high-frequency, high-efficiency and very high-density power converters in a faster way. Navitas is very fortunate to provide GaNFast Power ICs for OPPO's new generation of fast-charging technology, helping OPPO products improve user experience and technological innovation. GaNFast Power IC are utilized in OPPO's world-beating 50W Mini SuperVOOC fast charger, 110W Mini SuperVOOC fast charger and other products and technology platforms, presenting a brand-new form-factor standard.
About OPPO:
OPPO launched the first "smiley phone" in 2008, which started the exploration and lead the journey to the ultimate beautiful technology. At present, OPPO allows consumers around the world to enjoy the most beautiful technology with smart terminal products with Find and R series mobile phones as the core, and internet services such as OPPO+.
Corporate Vision: To be a healthier and longer-lasting enterprise.
Corporate mission: Let extraordinary hearts enjoy the most beautiful technology.
Corporate values: duty, user orientation, pursuit of ultimate results orientation
About Navitas:
Navitas Semiconductor is the world's first GaN power IC company. The company was founded in 2014 and is headquartered in Ireland, with R&D centers in Shanghai, Hangzhou, Shenzhen, and Los Angeles in the United States. Navitas has a strong and growing team of power semiconductor industry experts with rich experience in materials, devices, applications, systems and marketing, plus a proven record of innovation with over 300 patents among its founders. GaN power ICs monolithically-integrate power, analog and logic circuits to enable faster charging, higher power density and greater energy savings for mobile, consumer, enterprise, eMobility and new energy markets. Over 100 Navitas patents are issued or applied.
###
Navitas Semiconductor, GaNFast and the Navitas logo are trademarks or registered trademarks of Navitas Semiconductor, Inc. All other brands, product names and marks are or may be trademarks or registered trademarks used to identify products or services of their respective owners.
Press Contact
Navitas Semiconductor Inc.
Stephen Oliver, +1 ThinkGaNIC (+1 844-654-2642)
VP, Sales & Marketing
[email protected]