Next-generation gallium nitride technology from Navitas enables over 30% shrink vs. standard Apple charger
IRVINE, CALIFORNIA and DUBLIN, IRELAND –(PRWeb)– Spigen Inc. and Navitas Semiconductor today announced a new 20W GaN wall charger, the Spigen PowerArc ArcStation Pro, ahead of the expected Apple iPhone 12 release later this year.
"Industry rumors indicate that the iPhone 12 will release without an 'in-box' charger," said Bobby Lee, Spigen's Product and Marketing Manager. "The ArcStation Pro proactively fills that void and delivers lightning-fast charging in the smallest-possible form-factor, with an elegant design and fold-flat AC pins. With 20W of charging power and a USB Type-C output, it can also charge AirPods, iPads and any number of other phones and tablets via USB-C to Lightning or USB-C to C cables."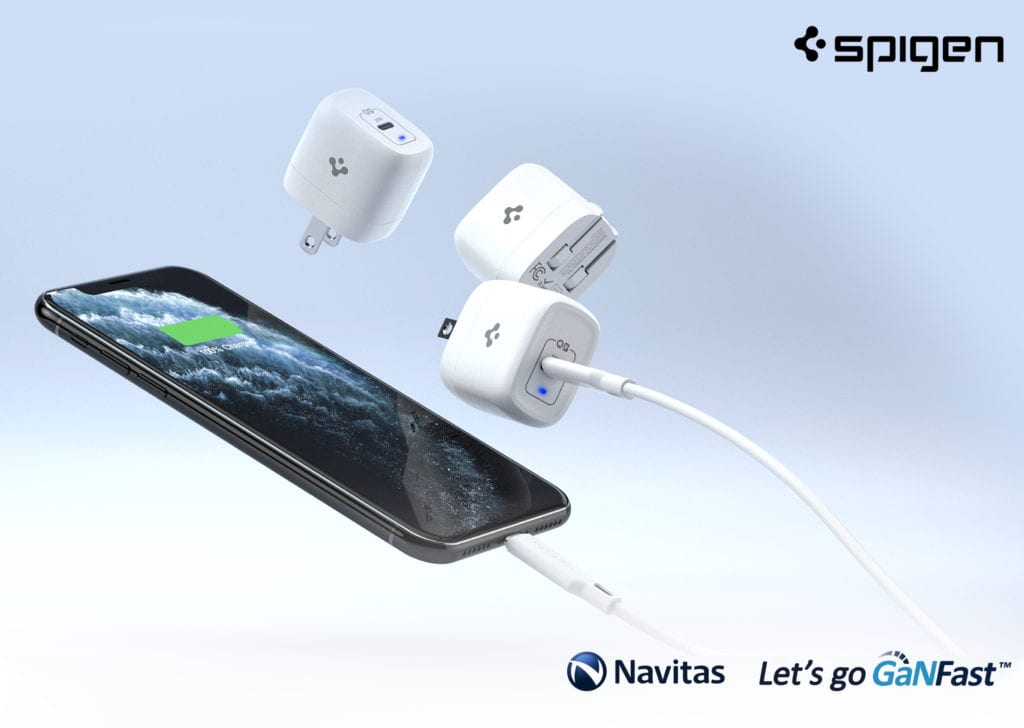 A powerful upgrade over former Apple chargers, the ArcStation Pro embraces modern gallium nitride (GaN) technology which runs up to 100x faster than old, slow, silicon chips to fast-charge electronics like never before. Navitas' GaNFast™ power ICs monolithically integrate GaN power, GaN analog and GaN logic circuits on the same chip, to enable faster, reliable, efficient operation – in a very small size. At just 39.5 x 34.5 x 27.7 mm (1.55 x 1.35 x 1.09 in), and featuring smooth-folding AC-pins, this charger is 30% smaller than Apple's current 18W wall chargers.
"Spigen's PowerArc is the leading-edge fast charger, ahead of Apple's iPhone 12 and differentiated by its accessible, affordable price point and commitment to quality," said Stephen Oliver, Navitas' Vice-President Marketing and Investor Relations. "The silicon chip is history; gallium nitride and GaNFast power ICs are driving a fast charger revolution."
The Spigen PowerArc ArcStation Pro will retail for US$19.99 at the end of August 2020, a major saving vs. Apple chargers. You can subscribe to the email list to receive exclusive updates and promotional pricing for the launch at www.Spigen-powerarc.com .
About Spigen
Spigen Inc., commonly known as Spigen, is a mobile accessory leader founded in 2009 that makes cases, screen protectors, and other accessories for popular smartphone models. Spigen has recently launched its new brand Spigen PowerArc, specializing in delivering ultra-fast charging solutions for mobile devices. To learn more, please visit www.Spigen-powerarc.com .
About Navitas
Navitas Semiconductor Inc. is the world's first and only GaN Power IC company, founded in 2014. Navitas has a strong and growing team of power semiconductor industry experts with a combined 200 years of experience in materials, devices, applications, systems and marketing, plus a proven record of innovation with over 300 patents among its founders. GaN power ICs monolithically-integrate GaN power, GaN analog and GaN logic circuits to enable faster charging, higher power density and greater energy savings for mobile, consumer, enterprise, eMobility and new energy markets. Over 100 Navitas patents are issued or pending.
Press contacts:
Spigen Inc.
Bobby Lee – Product and Marketing Manager
Phone: +1 949-502-5121 EXT145
Email: [email protected]
Navitas Semiconductor Inc.
Stephen Oliver – VP Corporate Marketing and Investor Relations
Phone: +1 ThinkGaNIC (+1 844-654-2642)
Email: [email protected]